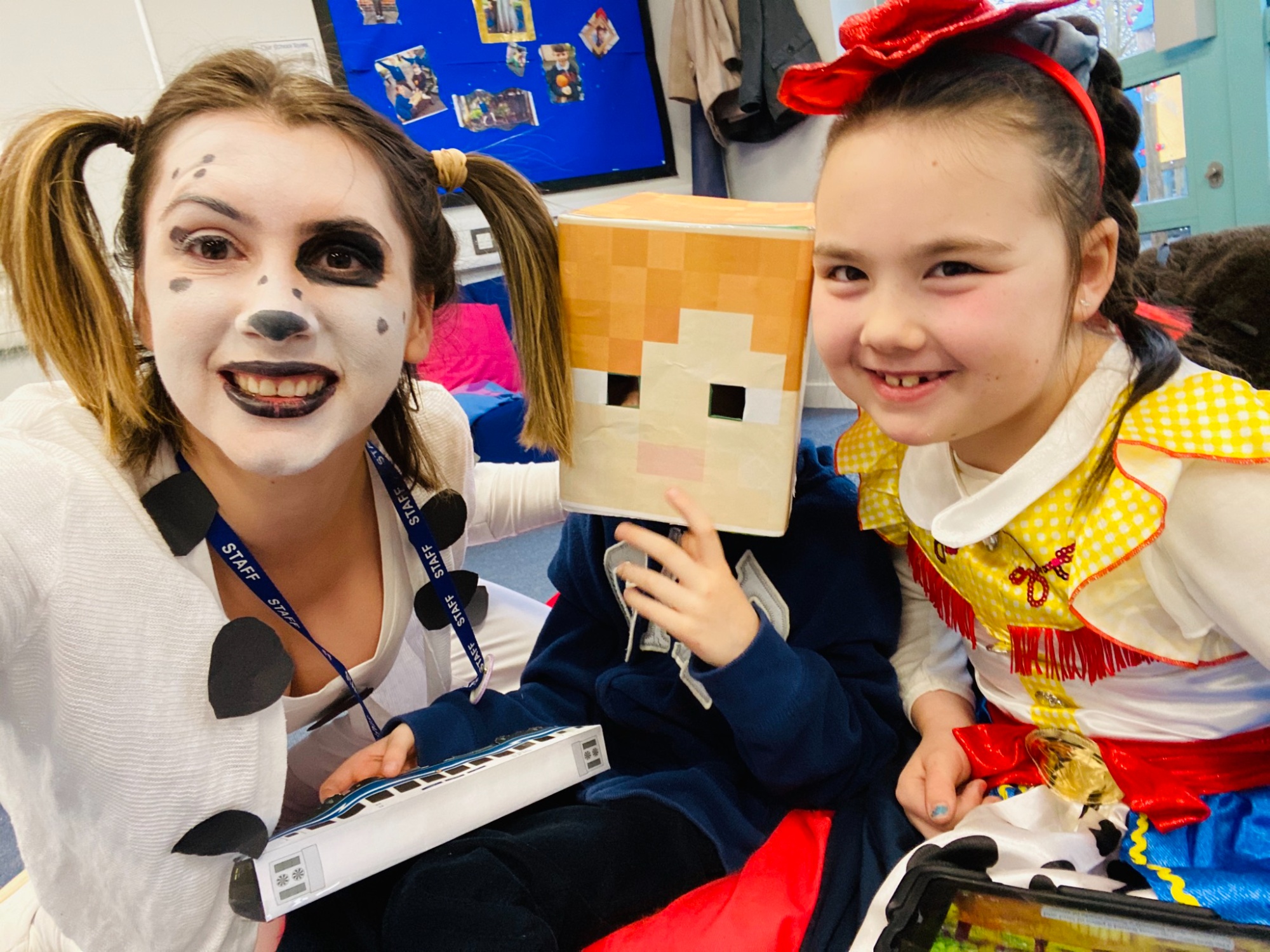 SEND Information Report
SEND Information Report
Introduction:
East Sheen Primary School is a mainstream school with KS 2 and KS 1 specialist resourced provisions (SRP) for children with Social, Mental and Emotional Health Difficulties (SEMH).
At East Sheen Primary, we believe all children and young people are entitled to an education that enables them to make progress so that they:
Achieve their best
Become confident individuals living fulfilling lives, and
Make a successful transition into adulthood, whether into employment, further or higher education or training
The following questions are answered within this report:
What is the Special Education Needs or Disability (SEND) Information Report?
What is the LA Local Offer?
The Children and Families Bill was enacted in September 2014. From this date, Local Authorities (LA) and schools are required to publish and keep under review information about services they expect to be available for children and young people with special educational needs (SEN) aged 0-25. This is referred to as the 'Local Offer.' The intention of the Local Offer is to improve choice and transparency for families. It is also a valuable resource for parents in understanding the range of services and provision available in their area for children and young people from 0 to 25 who have Special Educational Needs and/or a Disability (SEND).
The Richmond and Kingston Local Offer can be found here.
What is SEND?
The Special Educational Needs Code of Practice 2014 states that a child or young person has SEN if they have a learning difficulty or disability which calls for special educational provision to be made for them. A child of compulsory school age or a young person has a learning difficulty if they:
Have a significantly greater difficulty in learning than most others of the same age; or
Have a disability which prevents or hinders them from making use of educational facilities of a kind provided for others of the same age in mainstream schools or mainstream post-16 institutions.
Special Educational Needs can broadly be defined by the following four areas of need:
Communication and Interaction
Cognition and Learning
Social, Emotional and Mental Health
Sensory and/or Physical Needs
The individual needs of most children and young people will be met by high quality teaching (Quality First Teaching) that is differentiated and personalised. Whilst disabilities generally affect children long term, not all SEN difficulties should be seen as 'Life Long.' SEND is seen by our school as the child requiring provision that is additional to, or different from the rest of the class. For example, they may have additional needs due to dyslexia, coordination problems, number understanding, significant sight problems – the list is endless and every child is unique – however a carefully planned approach is needed, additional to high quality class teaching for these children to achieve as well as they can.
Who should I talk to if I have concerns about my child's progress and any difficulties they have with their learning?
All parents of pupils at East Sheen Primary School are invited to discuss the progress of their child on a number of formal occasions during the year, as well as receiving a written report at the end of the academic year. However, as part of our parent teacher partnership, we encourage arranging an informal meeting outside these formal occasions to discuss any initial concerns or potential barriers to learning you/we may have identified.
1. If you are concerned about your child's behaviour or progress, please initially speak to their class teacher.
2. For further advice and support, you might like to speak to the school SENDCo.
The SENDCo at East Sheen Primary School is Maddie Jensen who is a qualified teacher of all primary ages and will shortly achieve the National Award for SEND Co-ordination. Maddie is available on 0208 876 7484 or mjensen@eastsheen.richmond.sch.uk
3. If, after following this communication pathway, you remain concerned, please make an appointment via the school office team with the Headteacher, Debbie Canner
Our complaints' policy can be found on the school website
What are the different types of support available for children with SEND at ESPS?
There are two categories of SEND at East Sheen Primary School. These are children in receipt of:
A Support Plan; the children are overseen by the school, and the school and parents initiate, review, amend, and cease support for children whose needs are seen as 'Support Plan' level.
Education, Health and Care Plan (EHCP); historically, children who had higher needs were issued a 'statement,' by the Local Authority, now known as an Education, Health and Care Plan (EHCP) to encompass support from education, health and/or social care. Children with needs at this level have their plans initiated and ceased by the Local Authority, but the school and parents contribute to the review and monitoring process at least annually.
At East Sheen Primary School, we can make provision for every kind of frequently occurring special educational need without an Education Health and Care Plan. For example, dyslexia, dyspraxia, speech and language needs, some forms of autism, some forms of Asperger's Syndrome, ADHD, learning difficulties and behavioural difficulties. This list is not exhaustive; there are other kinds of special educational needs that do not occur as frequently, and with which the school is less familiar, but we can access training and advice so that these kinds of needs can be met.
The school has experience of meeting the needs of pupils with a statement of special educational need / Education Health and Care Plan with the following kinds of special educational need: dyslexia, autism, learning difficulties, behaviour difficulties, Cerebral Palsy, Down's syndrome, Fragile X and speech and language difficulties. Decisions on the admission of pupils with an Education Health and Care plan are made by the Local Authority.
The admission arrangements for pupils without an Education, Health and Care Plan do not discriminate against or disadvantage disabled children or those with special educational needs and will follow the usual school admissions procedures.
How does the school identify children who may have SEND?
At East Sheen Primary School, class teachers monitor the progress of all pupils regularly as part of a review cycle. We also use a range of assessments with pupils at various points during the year to assess phonics knowledge, reading, spelling, writing, maths and science knowledge. There is a statutory phonics assessment in Year 1, as well as end of KS 1 and end of KS 2 SAT assessments.
The principle of early identification and intervention underpins our approach to identifying those pupils who need extra help. This is often put in place, even if a special educational need has not been identified. This extra support will enable the pupil to catch-up/keep-up. Examples of extra support are:
small group teaching for literacy and numeracy skills, additional phonics sessions, social skills groups, speech and language groups, fine/gross motor skills groups (OT) and 1:1 mentoring session with an adult; this extra support does not imply that the pupil has a special educational need.
If improvements in progress are not seen following this normal provision, we may arrange a meeting with parents to gain a picture of any barriers to learning. At this meeting, we discuss if the barriers are temporary and discuss the additional steps we will take to help us address these needs better. From this point onwards, if the need is identified as a significant barrier to learning, the pupil will be identified as having special educational needs because specialist educational provision is being made. Parents are formally notified that their child has special educational needs and will be invited to all planning and reviews of this provision. These meetings are incorporated into the parent/teacher consultation appointments in the second half of the autumn and spring terms. Additionally, early in the spring term an appointment is offered during the school day to meet with the class teacher and school SENDCo to review the progress; in the summer term, the children receive a written report and an appointment can be made to discuss the report or any other concerns.
At times, it may be necessary to consult with outside agencies to receive more specialised expertise. The purpose of this more detailed assessment and review is to understand what additional resources and different approaches are required to enable the pupil to make better progress. These are shared with parents, put into a support plan and reviewed regularly; they are refined/revised if necessary. At this point, because the pupil requires additional and extra provision, we will have identified that the pupil has a special educational need. The support plan is known as a Person-Centred Support Plan (PCP). If the pupil makes good progress using this additional and different intervention (but would not be able to maintain this good progress without it) we will continue to identify the pupil as having a special educational need. If the pupil can maintain good progress without the additional, different resources/interventions, he or she will cease to be identified with special educational needs and taken off the school SEN register.
We ensure that all teachers and support staff who work with the pupil are aware of the support (PCP) to be provided and the teaching approaches to be used. The pupil's progress will be monitored through ongoing whole school assessment, teacher assessment, and additional reading, spelling and numeracy assessments, when necessary.
Sometimes, the child may need some extra specialist support. The school works in partnership with external agencies to offer additional support where necessary e.g. Educational Psychologist, School Nurse, Bereavement Counselling, Family Support, Social Services, Occupational Therapy, Speech and Language Therapy, Physiotherapy, Drama Therapy and Art Therapy. These agencies offer advice to the school in various forms, including drop in clinics, staff training, and ideas for teaching strategies. The support of the external agencies is not limitless and therefore the process is consultative. Parents will be informed and permission for direct support is required where the school and/or agency identifies this need.
Flow chart to illustrate graduated approach to identification of SEND support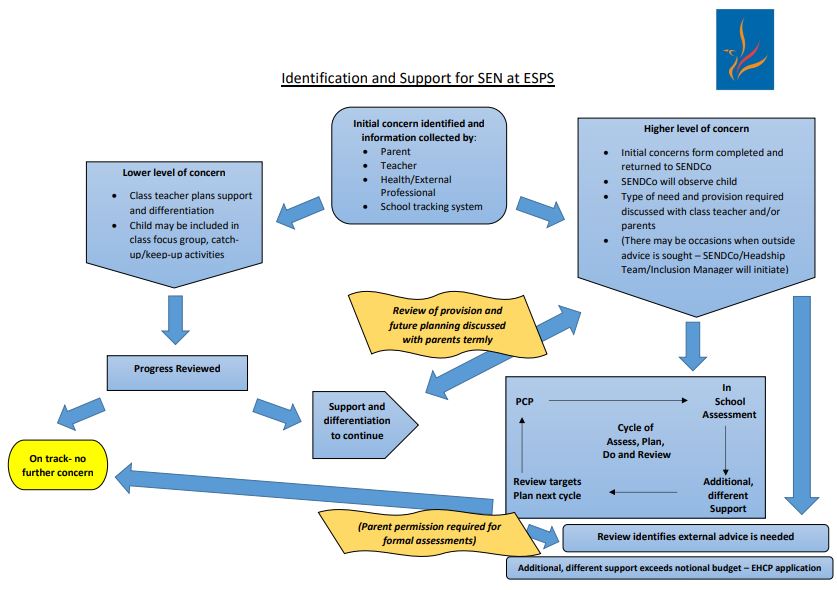 How does the school assess and review the progress of children with SEND?
Regular tracking of every child's progress is made using a software tool known as Target Tracker. In addition to this, pupils with special educational needs have more frequent and detailed assessments to inform targets and to measure small steps of progress. This assessment is both formative and summative.
If the assessments identify adequate progress is inconsistent or has plateaued, then the support plan and planned outcomes are reviewed and adjusted accordingly. We may use more detailed forms of SEND assessment. These include:
Speech Therapy Assessments – which may focus on speech sound production, language understanding, or other relevant assessments to your child's needs.
Education Psychology Assessments – which may include memory, understanding, reasoning, logic, and general skills assessments.
Cognition and Learning Assessments – these may include observations and assessments.
On-going school assessment - these assessments are comprehensive in all aspects of school life, with some additions for children with SEND. These may include reading, writing, maths, phonics and spelling assessments.
Social and Emotional Assessments – these may include observations, pupil/teacher questionnaires and assessments.
How will the teaching and learning be adapted to meet the special educational needs of my child?
Class teachers plan lessons according to the specific needs of all groups of children in their class and will ensure that the child's needs are met. Under the guidance of the class teacher, the support staff can adapt planning to support the needs of the child, as necessary. Specific resources and strategies may be used to support the learning further in a group or individually in targeted interventions. Teachers use their summative assessment to plan for their lessons and adapt the activities according to the evaluation on a day to day basis. The SENDCo provides support to teaching staff in the form of guidance on activities, differentiated support, useful ideas for resources/scaffolds and with training advice.
Other examples of teaching support strategies are: one to one tutoring, mentoring, small group teaching, use of ICT software learning packages, pupil conferencing. These are often delivered by additional staff under the close direction of teachers employed through the funding provided to the school. This is known as 'notional SEN funding.' The class teacher remains responsible for working with the pupil daily.
How does the school adapt the learning environment for children with SEND?
At ESPS we follow the advice in The National Curriculum Framework on how to adapt the curriculum and the learning environment for pupils with special educational needs. We also incorporate the advice provided because of internal and external assessments, as well as any strategies described in EHCPs. (Please also see our Accessibility Plan - available on the school-website for how the school adapts the physical environment.)
As part of our requirement to keep the appropriateness of our curriculum and learning environment under review, the Governors have made the following improvements: embedded thinking schools' strategies, scaffolding for writing, developing effective use of support staff and enhancing the curriculum with an 'environmental intelligence' strand.
Specialist equipment is considered on an individual basis.
We have a duty to make arrangements to support pupils with medical conditions. Individual healthcare plans normally specify the type and level of support required to meet the medical needs of such pupils. Where children and young people also have special educational needs, their provision is planned and delivered in a co-ordinated way with the healthcare plan. We have regard to the statutory guidance supporting pupils at school with medical conditions and there is a welfare assistant.
Within the school there is a strong nurturing ethos providing a supportive environment. A team which includes class teachers, LSAs, a welfare officer and SENDCO work to support children's well-being. Support is tailored to individual needs. Established systems are in place to ensure the safe administration of medicines. There are several members of staff trained as first aiders, a full-time welfare assistant on duty in the medical room. Additional training is sought on an individual basis to meet the needs of specific pupils.
The school has a clear behaviour policy and understanding of behavioural difficulties. When necessary individual behaviour plans are used to support children, who are having the most difficulty. Our resourced provision is a source of expertise.
School attendance figures are consistently high for all pupils and SEND. Systems are in place to promote attendance.
What additional support for learning funding is available for pupils with special educational needs?
Schools receive funding for a proportionate number of SEN pupils. This funding is used to support and enhance high-quality teaching in schools. It helps to ensure there are sufficient resources for pupils requiring special educational provision. The support offered is matched to the needs of individual pupils with SEN and evidence. The amount of support required for each pupil to make good progress will be different in each case. In very few cases an extremely high level of resource is required. For these children, the school will request 'top up' from the Local Authority where the child or young person lives and an EHCP may be given to identify the required outcomes at the end of a key stage. This 'top up' is reviewed annually.
The Headteacher has the final say in the use of the child's personal budget within the school.
What activities are available for pupils with special educational needs in addition to those available within the curriculum?
All clubs, trips and activities offered to pupils at East Sheen Primary School are usually available to pupils with special educational needs. For some pupils 'reasonable adjustments' may need to be made. This is always done in partnership with families and carers.
Extracurricular activities are listed on the school website. The school works with providers and parents to enable children to access these activities. Facilitating access to day visits and residential trips is planned on an individual basis in partnership with parents. The school provides a high level of supervision during lunch and playtimes. Additional support is allocated, when necessary, to individual children.
What support is available for improving the emotional and social development of pupils with special educational needs?
At East Sheen Primary School, we understand that an important feature of the school is to enable all pupils to develop emotional resilience and social skills, both through direct teaching, for instance PSHE, social skills groups, assemblies and indirectly with conversations adults have with pupils throughout the day.
For some pupils with the most need for support in this area, we can also provide from the following: mentor time with a member of the senior leadership team or SEMH provision team, external referral to CAMHs, a time-out/safe space for the pupil to use when upset or agitated, art or music therapy.
Pupils with emotional and social needs because of their special educational needs will be supported to enable them to develop and mature appropriately. The Zones of Regulation are used to assist with this.
We are interested in hearing parents'/carers' and pupils' views. The school encourages pupil voice through pupil leadership, pupil questionnaire, pupil-teacher conferencing and PCP reviews. Parents are also able to express their views; firstly, through our open-door policy but also through more formal channels such as parent consultations, parent satisfaction survey, SEN survey, annual review.
The school has a robust anti bullying policy and behavioural expectations are consistently high. This is achieved through assemblies, PSHE curriculum and workshops.
What expertise and training is available for staff in relation to special educational needs?
We endeavour to provide teachers and teaching assistants with regular awareness training in the most common special educational needs such as dyslexia, speech and language, emotional and behavioural difficulties. Special Educational Needs is regularly included in the school INSET programme. Teachers and teaching assistants are encouraged to attend courses to increase their knowledge. Where a training need is identified beyond the above planned INSET, we endeavour to find a provider who can deliver it. The training providers we can access include: local special schools, educational psychology team, speech and language therapists, occupational therapists, physiotherapists, dyslexia specialists, teaching and learning advisors.
How are children with special educational needs involved in their education?
When a child has been identified as having special educational needs because they are following an individualised support plan, then they will be consulted about this provision and involved in the arrangements as part of person-centred planning. These arrangements are adapted to suit their age and the level of special educational needs they have.
At East Sheen Primary School, we recognise that the transition between phases can be a challenging time for all children and in particular children with SEN. We work closely with the educational settings that the children are moving from/ on to. When necessary, Early Years staff will visit children in their pre-school setting, e.g. nurseries and plan for additional inclusion or familiarisation visits as required.
We also plan closely with secondary schools by providing information well in advance to allow for these settings to plan transitions and any individualised programmes, if deemed necessary.
What are the arrangements for making a complaint or paying a compliment concerning the provision made at the school?
We encourage parents to discuss their concerns e.g. with the class teacher, SENDCo, and /or Headteacher to resolve the issue before making the complaint formal to the Chair of the Governing Body.
Complaints about provision made for special educational needs and disabilities follow the same arrangements as any other complaints at East Sheen Primary School in accordance with the school's Complaints Policy (available on the school website). Should you be happy with the provision your child receives, there is nothing better than telling the teacher, staff or Headship Team! You can also respond to the Parent Survey which is sent out annually.
How do we evaluate the effectiveness of our SEND provision?
A regular monitoring and review cycle focuses on the extent to which planned outcomes have been achieved. The views of the pupil, parents and class teachers are considered. The assessment information from teaching staff shows whether adequate progress is being made. A named governor is responsible for monitoring the provision/outcomes for pupils with special educational needs.
The SEN Code of Practice (2014) describes adequate progress as:
Is like that of children of the same age who had the same starting point
Matches or improves on the pupil's previous rate of progress
Which allows the attainment gap to close between the pupil and children of the same age
For pupils, with or without an EHCP, there will be a termly review of the provision which enables overall evaluation of the effectiveness of the special provision to be made. An annual review of an EHCP is held to assess the outcomes detailed in the plan. The collective evaluations of effectiveness will be reported to the governing body.
The link governors for SEND are Nathalie Townley and Helen Wrigglesworth.
This report is reviewed annually by the governing body.
Date approved: Spring 2022
Date to be reviewed by: Spring 2023