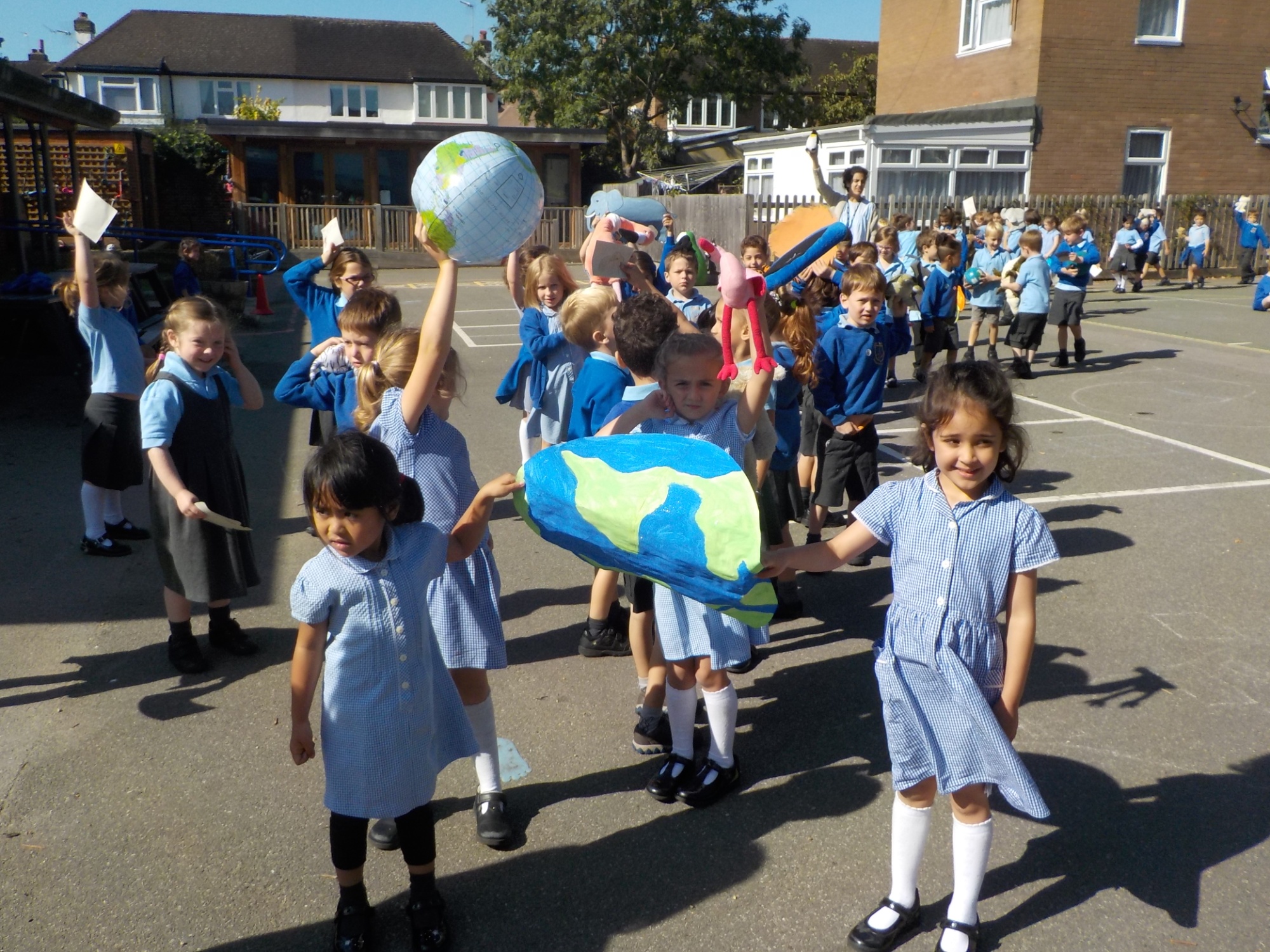 Environmental Activities
At East Sheen Primary School, we aim to develop an environmentally intelligent community. To this end, we have identified environmental threads through our curriculum to raise awareness, promote discussion and debate and use our green hat thinking as we explore some of the environmental challenges our planet faces.
Our amazing 'Green Team' were elected by their Year 6 peers. They hold regular meetings with the Environmental Leader and enjoy updating the rest of the school with useful eco-tips and competitions. Additionally, the 'Green Award' is presented to a KS1 and KS2 class each week.
East Sheen Primary School currently recycles cans, plastic, glass, paper and even old whiteboard pens! We also compost our fruit waste for use on our wonderful garden. Every week, the whole school makes a collective effort in improving our school grounds. Eager and enthusiastic volunteers come to assist the Green Team in making sure that all pupils (and staff!) follow the motto 'Reduce, Reuse and Recycle' and respect our school's resources. Volunteer jobs also include checking the recycling bins are empty and clearing any rubbish using our new litter pickers!
The Green Team's latest project is working towards an 'Eco-School Green Flag' application. They have identified the many environmental strengths at ESPS and are now working alongside the Environmental Leader to create an action plan for the school going forward. We are confident that there are plenty of exciting sustainable opportunities for the future.
You can find out more about the work we have done on improving the air quality and environment in school by visiting this page.
Our exciting vision going forward is to further develop the environmental thread through our curriculum. We will use our Thinking School tools to explore complex issues and develop a positive attitude to problem-solving.
To this end, we have identified a 'guardianship' for each year group. Children will see this environmental strand in some of their lessons throughout the year and will think in a solution-focussed way about how to help the environment and overcome these environmental threats.
Below is each year group's guardianship area:
Reception: Oceans/Endangered animals
Year 1: Green transport
Year 2: Climate change
Year 3: Deforestation
Year 4: Waste/consumption
Year 5: Sustainable fashion
Year 6: Air quality
In July 2023, the school was awarded the Eco Schools Green Flag Award with distinction!